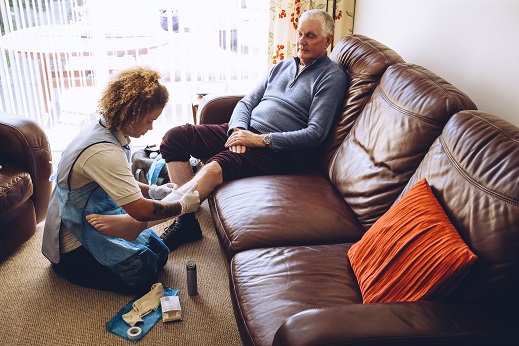 Infection is a common complication after surgery, especially if the wound is not properly treated. It requires care and attention regularly to ensure that the wound continues to heal.

There are certain factors to consider, particularly in the earlier healing stages of a surgical wound. Initially, the patient is prohibited from wetting the wound a few days after the surgery. That is why bathing or showering is often a struggle for patients.

Here are some helpful wound care tips to consider when bathing:
Showering is preferred compared to soaking in a bathtub.
Avoid applying any washing products with harmful contents to your wound.
Gently pat your wound with a clean towel after the shower.
Clean the wound before applying a sterile gauze pad to it.
If you are looking for a skilled and licensed nursing assistant in Texas who can provide quality wound care management to your loved one, Higher Standards Home Health can provide you with the right one!

As a reliable provider of home health care services in Dallas, Texas, we have a patient-centered approach to delivering medical services of the highest quality to our clients. Every service we offer is closely supervised by our team of professionals to ensure that our clients improve their health and retain their sense of pride and independent living while in the comforts of their homes.
For further inquiries on our home health in Texas, reach out to us at 214-628-9047.