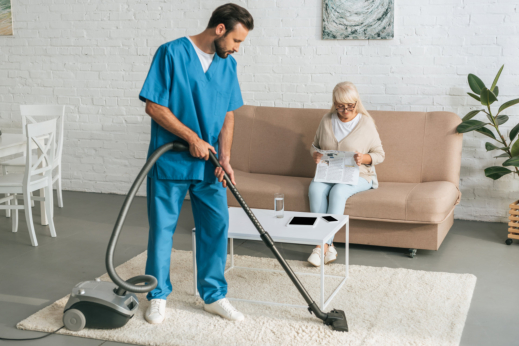 Home health care does not focus only on promoting health but also preventing sickness and injury. This is why providers of home health care services in Dallas, Texas also offer light housekeeping, meal preparation, and assistance with exercise, among others. To best enjoy the golden years, being healthy is just as important as the prevention of illnesses, diseases, and other unwanted health conditions.
Here are a few ways to better prevent sickness and injury at home, as suggested by our experts here at Higher Standards Home Health:
Make sure to always wash your hands
Our hands can hold many harmful germs and bacteria that can make us sick especially because we often place them around or face, mouth, nose, and eyes. Washing your hands regularly will ensure that you eliminate any harmful germs that may be present.
Keep the home clean
Having a clean home promotes a safer environment and helps prevent sickness and any injuries, especially those caused by falls. Many germs are often brought into your home from outside, and it's important that these germs are eliminated and do not spread. This is why home health care providers offer light housekeeping services to ensure a clean environment at home.
Make sure that the food you keep is fresh
Monitoring the food at home is a good practice that ensures no accidental ingestion of expired food. Eating expired food may have more adverse effects on young children and the elderly. With services that promote home health in Texas, a caregiver will help see to it that your food is fresh and healthy for your loved ones.
Promoting good health and cleanliness at home is important to avoid sickness and promote overall wellness. We at Higher Standards Home Health offer quality homemaking services, as well as other care options like companionship care and personal care, provided by a reliable home health aide or nursing assistant in Texas.