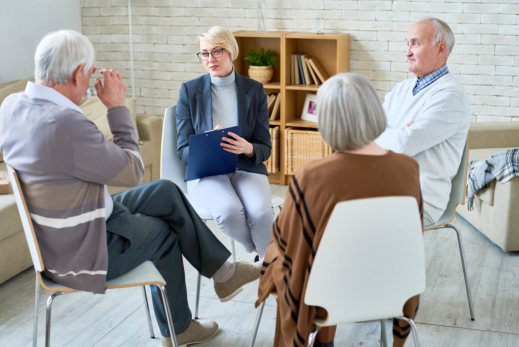 Socialization is important especially for the elderly to reduce their risk of experiencing loneliness or social isolation. This is important because loneliness and social isolation can promote stress, anxiety, and depression that can negatively impact mental health especially for the elderly. Through companionship care offered by care providers like our home health care services in Dallas, Texas, your elderly loved ones will get the assistance they need in order to find more opportunities to socialize.
Here are a few things that we here at Higher Standards Home Health think are great ways to help the elderly socialize:
Discussion groups
Discussion groups are a great way for the elderly to socialize. They can be found in places like senior centers or community centers. Through discussion groups, people from all walks of life get together to discuss various topics ranging from movies, books, travels, and life experiences. This is a great way for the elderly to meet people and socialize. We can help you find a nursing assistant in Texas who can assist you in finding these discussion groups.
Social Media
One of the best ways to help the elderly stay connected with friends and family is through social media. Various social media platforms offer services such as video and voice calls, instant messaging, and many more that can help the elderly interact with their loved ones. Social media offers a very convenient way for the elderly to be able to socialize more.
Volunteering
Another great way for the elderly to socialize is through volunteerism. Volunteering is a great way to meet new people while at the same time making a positive contribution to your community.
Socializing is important no matter what the age the activities mentioned above apply to all not just the elderly. With our home health in Texas, we can help your elderly find better and more opportunities to socialize.