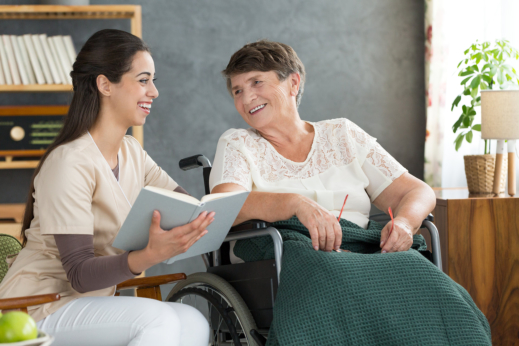 The risk of developing dementia is higher at an older age. One in every ten adults ages 65 and older have some sort of dementia; which is why it is important that steps are taken to promote mental health. Luckily, there are many activities out there that can help promote mental health. Most, if not all, of these activities can be performed with the assistance of a caregiver or nurse. If you are looking for help we can help you find a nursing assistant in Texas.
From us here at Higher Standards Home Health, here are a few activities that can help promote the mental health of the elderly:
Meeting friends and family.
Socializing is one of the best things we can do for our mental health. Being around people especially friends and family is very stimulating for the mind. Socialization also helps to reduce stress, anxiety, and depression—all of which can negatively affect our mental health.
Reading regularly.
One great way to keep the mind sharp throughout the years is by reading a lot. When we read we are exercising our brains by stimulating it through focus and concentration which are needed in analyzing and comprehending what is being read. Care providers such as our home health care services in Dallas, Texas can help provide reading material for the patients.
Brain games and puzzles.
These are not only fun and help fight off boredom but are also very mentally stimulating. The key to promoting mental health is to positively stimulate the mind. Brain games and puzzles promote focus, concentration, comprehension, and analysis which all promote brain and mental health.
Practice the activities above and promote your mental health. We can provide home health in Texas if you or a loved one needs assistance with any of the activities mentioned above.